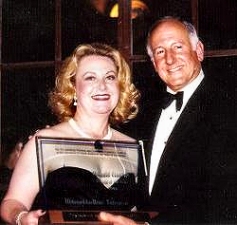 Jo-Ann Grace presents 1996 Metropolitan News-Enterprise "Person of the Year" Award to California Chief Justice Ronald M. George at annual dinner.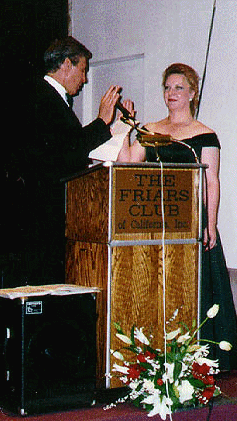 Los Angeles Superior Court Judge Robert Mallano swears Jo-Ann Grace in as 1996 Italian American Lawyers Assn. president.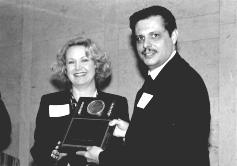 Jo-Ann W. Grace with husband Roger receiving award from Southwestern University School of Law as 1993 "Outstanding Friends" of the school.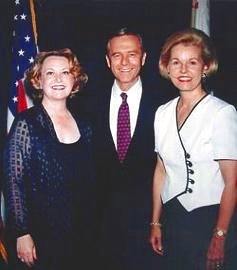 MNC's president with then-California Gov. Pete Wilson and First Lady Gayle Wilson.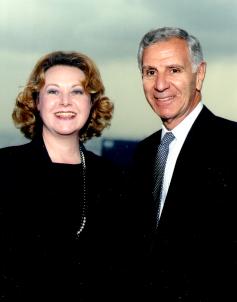 Jo-Ann Grace with former California Gov. George Deukmejian.
Born Oct 6, 1946, Chicago Ill. Became resident of Southern California in 1948.
Attended school in Orange County. After completing junior year in high school, enrolled at USC under honors program, receiving high school diploma at time of completing first year of college.
Received AB in political science from USC, 1967; JD from University of Texas School of Law, 1970. In law school, was director of Legal Research Board (outstanding member, 1969-70), research editor of Texas International Law Forum.
Admitted to practice law in Texas, 1970; admitted in California, 1973. Admitted to practice before the U.S. District Court, Central District of California, 1974.
From 1971-80, served as estate and gift tax attorney for Internal Revenue Service. Appointed federal womenís program coordinator for Los Angeles District after six months with IRS. Also served as member of Western Regionís Womenís Advisory Committee, headed Womenís Committee of Federal Executive Board, and was member of USC Advisory Committee on the Continuing Education of Women.
In 1980, became co-publisher of Metropolitan News, which subsequently merged with the Los Angeles Enterprise to become Metropolitan News-Enterprise. Since 1990, president of Metropolitan News Company and since 1991, president of Cal-Net, a clearinghouse for legal notices.
One child: daughter, Lisa Grace-Kellogg, born 1970; attorney.
Present Activities
Member, Board of Directors, Conference of Delegates of California Bar Associations.

Member, LACBA delegation to the Conference of Delegates of California Bar Associations.

Member of California Women Lawyers (life member); Women Lawyers Assn. of Los Angeles, Los Angeles County Bar Association (LACBA), Italian American Bar Association (past president), Southern California Chinese Lawyers Assn., Cowboy Lawyers (founding member).
Past Activities
Member, State Bar Board of Governors (2004-2007; vice president, 2006-2007)

Treasurer, Foundation of the State Bar of California (founding fellow)

Board member, Los Angeles County Bar Foundation (life fellow)
Chair, Campaign Watch Commission, League of Women Voters, Los .Angeles



President, Italian American Lawyers Association

Commissioner, State Bar Commission on Judicial Nominees Evaluation.

Board , Levitt & Quinn Family Law Center

Chairperson, Lawyers Conference of Judicial Administration Division, American Bar Assn.

Chair, The Breakfast Club.