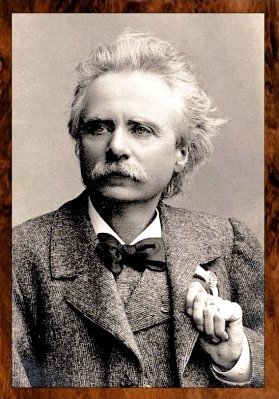 Author: Harald Herresthal
Harald Herresthal is a professor at the Norwegian State Academy of music in Oslo.
---
Introduction
Edvard Grieg (1843-1907) is the greatest composer Norway has fostered. In retrospect one may wonder how a country with neither national freedom nor a long tradition of art music could have produced a man of such genius. Up to 1814 Norway had been totally subject to Denmark, with Copenhagen as its cultural center. From 1814 to 1905 it was forced into a union with Sweden. The first half of the eighteenth century was a time of poverty in Norway and it was some time before it could assert itself among its Scandinavian brothers. But for the highly gifted these are perhaps the ideal conditions for providing impetus and nurturing growth.
In the autumn of 1858, Edvard Grieg, then only 15 years old, went to the Leipzig Conservatory to study music. His teachers were among the most eminent in Europe, and four years later he left the Conservatory as a full-fledged musician and composer. In the years up to 1866, Grieg lived in Copenhagen, leaving it only to make brief study trips. There he sought the advice of the famous composer Niels W. Gade, who encouraged him to compose a symphony. The work was performed several times, but Grieg later refused to acknowledge it. "Never to be performed," were the words he wrote on the score. Nevertheless, a few years ago the symphony was again performed and it was later recorded. This fruit of Grieg's early years was certainly nothing to be ashamed of, and it provides today's listeners with a broader view of Grieg's artistic and musical development.
The symphony demonstrates that Grieg had acquired considerable technical skill, and new works flowed easily from his pen. The Piano Sonata and the Sonata, op.8, for Violin and Piano, from 1865, are of very high quality.
Grieg's style was based on the German romantic tradition of music but bit by bit national awareness developed within him, coupled with a growing need to create a typical Norwegian style of music. His friendships and discussions with other young Norwegians also furthered this development. In Copenhagen Grieg had met Rikard Nordraak (1842-1866), whose patriotism reached its fullest expression in the choral setting of Norway's national anthem. As a composer he had not attained Grieg's level, but he had strong views on how to create music based on the old folk melodies.
When Edward Grieg settled in Christiania (now Oslo) in 1866, he was influenced by the composer Otto Winter-Hjelm (1837-1931). Winter Hjelm saw clearly how the elements of folk music could be used to create a national type of music along grander lines.
Another composer worthy of mention in this connection is Ludvig Mathias Lindeman (1812-1887), whose collection of Norwegian folk melodies formed an important basis for Grieg's further development. Later, Grieg went in search of folk music in its native environment, the written notes of folk music could only imperfectly reproduce the special atmosphere and the almost magical rhythms and harmonies that the folk musicians could coax out of their instruments.
In the hope of making his living as a musician in Norway, Grieg initially had to concentrate on playing and teaching music in Oslo. Composing was largely relegated to the summer holidays, but during these years Grieg exhibited a considerable capacity for hard work. It was thanks to him that a concert society with both choir and orchestra was established in the capital, a society which provided him with valuable experience in the art of instrumentation. In the autumn of 1868, Grieg put the finishing touches to his first great masterpiece, the Piano Concerto in A minor. With the passing of time it has become almost synonymous with Norway. It is now a part of the international repertoire of piano music and is played constantly throughout the world. Every time it is performed, the concerto evokes in both performers and audience strong associations with Norway. Though patterned to some extent on European models, Grieg has succeeded in bringing these together with elements of Norwegian folk music and his own personal conceptions of Norwegian nature and the Norwegian character. His musical style has become identical to the Norwegian intonation.
Even in Grieg's lifetime those who heard his music gained the impression that it was strongly linked to the landscapes and way of life of the people around him. His first biographer, Aimer Gronvold, helped to strengthen this impression through a situation he once described. When Gronvold, one summer day in the 1880s, sailed past the little settlement of Ullensvang in Hardanger on the local steamer, he caught sight of the small figure of Edvard Grieg, striding along beside the fjord at Lofthus. Picking a path through rocks and scree he made his way towards his destination, a small knoll with a wooden cabin specially built for him to compose in. It boasted but one tiny room, and was poised on the edge of the fjord, in the midst of the exquisite beauty of Ullensvang, with the dark, deep fjord below, and the glittering ridge of the Folgefonna glacier on the other side of the water. Grieg returned there every summer, and sometimes in the winter too, to seek the peace and tranquillity he needed for his work. In the heart of this matchless amphitheater of nature, surrounded by the most sublime and majestic scenery in Norway, Grieg placed his grand piano and his writing desk. Here he sat, like an Orpheus reborn, and played in his mountain fastness, among the wild animals and the rocks. His music came from the depths of rural Norway, where the quick and resonant tones of the Hardanger fiddle met his ear, and the Hardangerfjord's shifting moods enchanted his eye. Gronvold concluded that there was an intense and indissoluble relationship between the environment he lived in and the music that he created. It is almost impossible to listen to Grieg, be it in a concert hall or a drawing room, without sensing a light, fresh breeze from the blue waters, a glimpse of sparkling glaciers, a recollection of the steep mountains and of life in the fjordland of western Norway, where Grieg was born and dearly loved to roam.
In good times and bad
But this romantic image of the composer, and of his art and environment was only half the truth. Success did not come easily to Grieg. His life was a struggle where he encountered both success and adversity. In the 1860s he worked hard to support both himself and his family as a choir and orchestral conductor, as a music teacher and as a performer. In these fields he was successful, but it took time to win the recognition of other musicians and of the public. His harmonies seemed dissonant and unorthodox to a public still striving to understand Beethoven and Mozart. Grieg could not spend long periods in such an environment without being destroyed as an artist. The Norwegian school of painters, with Hans Gude at its head, had taken the obvious consequence of this several years before. Every summer they sketched and planned in the Norwegian mountains. But with the advent of the autumn, they packed their bags and went to Dusseldorf to complete and sell the paintings. At regular intervals Bjornson and Ibsen had to do the same, gathering new impulses and appreciation in Germany, Italy and France. This was how Grieg chose to work too. He decided to compose in his own country, but he also needed the inspiration of the European centers of music. If he was ever to be able to live off the proceeds of his own production, he needed a broader musical market than Norway and Scandinavia could provide.
The 10 volumes of Lyric Pieces -- printed at Peters publishing house in Leipzig -- with their simple, intimate mood images, played a major part in making his name known and loved in every piano-playing home in Europe. Even in his own lifetime, his compositions for the piano earned him the name, "The Chopin of the North."
In 1869 Grieg, on a state stipend, left for Italy. His encounter with Franz Liszt and the artistic circles in Rome gave him fresh inspiration and self-confidence. Fired with new energy and enthusiasm he returned to Christiania in 1870. There he initiated a fruitful cooperation with Bjornstjerne Bjornson, who for many years had been waiting for a composer who could write Norwegian music that would expand and bring to life his poems and dramas. The poem "Before a Southern Convent" for soprano, contralto, ladies' choir and orchestra (1871) was the first fruit of this cooperation. Inspired by its success Bjornson, in the same year, started on the dramatic poem "Bergliot" which with its rugged realism inspired Grieg to attempt a far more daring musical language than previously. In the spring of 1872 Bjornson and Grieg presented the result of yet another cooperation, the scenic drama "Sigurd Jorsalfar." The conscious search for national roots and identity in Nordic antiquity was continued in "Olav Trygvason." The idea was to create a monumental musical drama, but Bjornson never completed more than the first three, acts. The work remained a fragment, but Grieg's music gives us some idea of what a magnificent national opera, and perhaps a major opera composer too, were thus lost to Norway. The project was abandoned, but Grieg's dramatic talents were put to a new test when Henrik Ibsen asked him to write the incidental music to "Peer Gynt." This was no easy task for Grieg, but the music he wrote became one of the major works of the 1870s. In Grieg's own lifetime the "Peer Gynt" music scored a resounding international success thanks, not least, to the two orchestral suites which made the music accessible in the concert hall.
Bergen and the artists' grant
In 1874 Grieg was awarded an annual artists' grant, and could support himself without needing to teach or to conduct. He returned to his home town of Bergen. The framework now seemed ideal for a productive period in his life. Instead, it was a time of both personal and artistic crisis. A period of depression, and Grieg's struggle to overcome it led, nevertheless, to the creation of profound and gripping works of a high quality. The ambitious Ballad in G minor for piano and string quartet reflects the turmoil in his soul and his struggle to perfect both form and content.
As the years went by, Grieg composed more slowly, and each new work came to fruition only after a long and painstaking process. This was when he wrote "The Mountain Thrall" for baritone, two horns and strings, and most of the Vinje songs were composed at this time. Later came the Norwegian Dances for piano duet and the famous Holberg suite for strings.
From 1880 to 1882 he conducted the Harmonien orchestra of Bergen, but he later resigned all his official posts.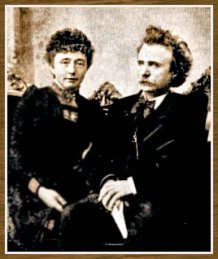 Nina and Edvard Grieg, 1886
In 1885 Grieg moved into his new home "Troldhaugen," outside Bergen. Here he and his wife Nina lived for the rest of their lives. The last twenty years of Grieg's life were mainly spent on composing and on extensive concert tours in Europe. The latter were scarcely beneficial to Grieg's ailing health, though they added to his fame as a composer. Among the works created in this period were the Sonata for Violin and Piano in C Minor and the memorable Haugtussa songs, set to the words of Arne Garborg. Of singular interest were Norwegian peasant Dances and Tunes, op. 72, marked by a harmonic boldness which was in advance of its time. The same could be said of his last major, completed work, Four Psalms for mixed choir, freely arranged from old Norwegian Church Tunes (1906). The arrangements of folk tunes which he completed later in life demonstrated his almost unique ability to understand the very essence of the folk melody.
Grieg's music became immensely popular. Around the turn of the century, it was performed the world over, not only in the great concert halls, but in cafés and restaurants everywhere. Such overwhelming public success accorded badly with the traditional image of the struggling and impoverished artist, and the way in which the performers of light music took over Grieg's many harmonic innovations was subsequently used against him. In connection with the 59th anniversary of Grieg's death, in 1957, critics asserted that his name had steadily lost its significance within the sphere of classical music. But since then the pendulum of history has swung back again, and this time to Grieg's advantage. Many of the romantic musical works are now undergoing a renaissance, and Grieg's compositions are among them. His works are still performed in concert halls throughout the world, and the number of Grieg recordings is increasing noticeably. Works long considered to be relative insignificant have been rediscovered by a new generation of musicians.
A number of music researchers have pointed to the significance of Grieg's later works on the French impressionists' search for a new world of sound. When Maurice Ravel visited Oslo in February 1826 he said: " The generation of French composers to which I belong has been strongly attracted to his music. There is no composer to whom I feel a closer affinity -- besides Debussy -- than Grieg." Bela Bartok, who attempted to renew musical style in the twentieth century on the basis of folk music, also received important impulses from Grieg's piano adaptations of such melodies.
Edvard Grieg's goal was to create a national form of music which could give the Norwegian people an identity, and in this respect he was an inspiration to other composers. But the greatness of his works lies not just in this , but in the fact that he also succeeded in expressing thoughts and emotions which could be recognized everywhere; music which people could identify with. Grieg's music transcended national boundaries. Viewed in this perspective, it is evident that he was far more than just a national composer.
.
---
From the Internet site, "ODIN," maintained by the Ministry of Foreign Affairs by Norinform. Textual reproduction permitted. A link to ODIN appears at the bottom of the Great Norwegians Homepage. Images, formatting, and layout (c) 1996-2001, MNC.
---
To return to the Edvard Grieg Linkpage, click below:


To return to the Great Norwegians Homepage, click below: