Click on icon above to enter the central web-server for the government of the Kingdom of Norway — a comprehensive and informative site. Some of the biographies included here are derived from that site.



"Enshrinees" include, in addition to some of those listed on this page, actors (and brothers) James Arness and Peter Graves, Vice Presidents Hubert H. Humphrey and Walter Mondale, Sen. Henry "Scoop" Jackson, jurist Earl Johnson Jr., actor E.G. Marshall, immigration pioneer Cleng Peerson, and boxer Pete Sanstol.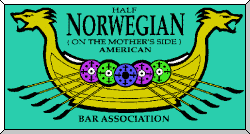 Click on the icon to visit the website of a jovial Los Angeles-based group of lawyers and judges. Meets on Norwegian Independence Day (May 17).

Daily news reports, in English, from Norway.